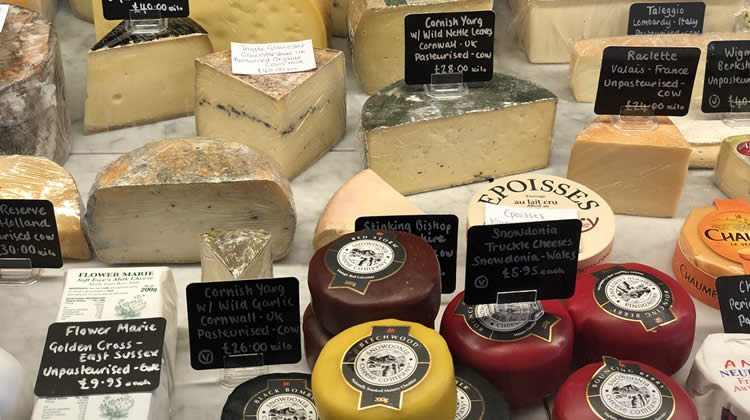 East Sussex Cheese Shop The Deli at Barley Sugar Eastbourne
The Deli at Barley Sugar offers an unrivaled cheese counter with an extensive selection of cheeses from the UK, France, Italy & Spain as well as many cheeses from local Sussex cheesemakers.
We select our cheeses from some of the best suppliers in the business ensuring that we only sell cheeses of the highest pedigree.
Our cheese counter usually displays anywhere between 50 & 80 artisan cheeses. These are some of the cheeses we usually stock, although we do rotate the cheeses on offer on a regular basis and can order in almost anything you can think of:
Quickes Mature Cheddar
Montgomery Mature Cheddar
Barbers Vintage 1833 Cheddar
Cheddar Gorge Cave Aged Mature Cheddar
Sparkenhoe Red Leicester
Snowdonia Black Bomber
Colston Basset Stilton
Blacksticks Blue
Ribblesdale Blue Goats Cheese
Cornish Yarg (Nettle & Wild Garlic)
Walo's Cave Aged Emmental
Barkham Blue
Blue D'Auvergne
Isle of Wight Blue
Burt's Blue
Stinking Bishop
Brie De Meaux Rouzaire
Roquefort Papillion Noir
Epoisses Coupe Germaine
Fourne D'Ambert
Morbier AOC
Manchego Curado
Pecorino with Truffles
Parmesan Reggiano 24 Months
Comte Prestige
Cave Aged Gruyere
Dolcelatte
Gorgonzola Dolce
Buffalo Mozzarella
Murcia Al Vino Goats Cheese
Walo Red Nose
Brebirouse D'Argental
Local cheeses
Brighton Blue
Mayfield Swiss
Flower Marie
Goodweald Smoked
Molecombe Blue
Levin Down
Chillies Farm Goat Cheeses
Sussex Charmer
Lord of the Hundreds
Golden Cross Goats Log
Woodside Red
Saint George
Sussex Crumble
Duddleswell Organic Sheep Cheese
Ashdown Forester
Sussex Camembert
Sussex Blue
We look forward to seeing you at the deli soon where you are more than welcome to taste any of the cheeses.