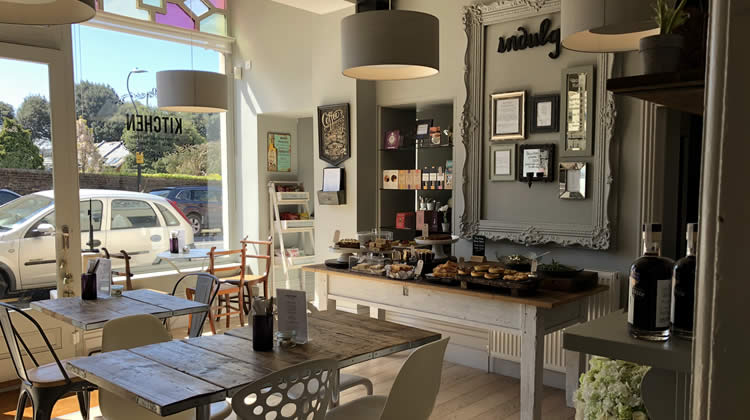 The Kitchen at Barley Sugar Eastbourne
Barley Sugar Kitchen is located at our Cornfield Terrace store in Eastbourne and it is here that we are able to showcase some of the dishes we've created using products from the adjoining deli. Much of our kitchen menu changes daily, but you can expect an array of wonderful artisan sandwiches, delicious savouries, spectacular cheese, charcuterie and antipasti grazing plates and lots of other daily surprises all using fresh and locally sourced ingredients. As well as lunch, you can also pop into Barley Sugar Kitchen for specialist teas, coffee or one of our mouth-watering cakes or sweet treats.
Although the menu at Barley Sugar changes daily with the seasons, below is a sample menu to give you a good idea of the type of dishes we specialise in.
Breakfast
Served until 11am
2 slices of artisan toast served with salted butter & jam, orange marmalade or peanut butter £2.95
Smoked bacon roll or Smoked bacon sandwich served w/ Sauce Shop ketchup £3.95
Bacon, Pesto & Taleggio toasted sandwich £4.95
Free range scrambled eggs on sourdough toast £6.95 with 2 rashers smoked bacon £7.95
Chorizo, onion & potato hash with a poached egg £7.95
Napoli salami, fennel salami, Comte cheese & vine tomatoes w/ mixed olives & toasted sourdough £7.95
Hummus, mixed olives, vine tomatoes, marinated artichokes, mixed antipasti & toasted sourdough £7.95
Lunch
Soup of the Day served w/ crusty artisan bread £5.95
Artisan savoury tartlet, locally made sausage roll or Scotch egg £4.50 served w/garlic roasted potatoes & mixed salads £7.95
Mixed salad plate £7.95
Barley Sugar Welsh rarebit £6.95
Smoked mackerel rarebit £7.95
Grilled chorizo sandwich w/red peppers, wild rocket & patatas bravas with siriacha mayo £8.95
Pate & pickles board w/ toasted sourdough £8.95
Dill herring Open Sandwich w/onions, capers & cornichons served w/garlic roasted potatoes £8.95
Grazing Plates
Barley Sugar's grazing plates are a fantastic way to sample what's good in our adjoining deli each day.
Each beautiful grazing plate is brimming with delicious deli products enabling you to try a little of lots of wonderful things.
Vegetarian grazing plate £10.95
Vegan grazing plate £10.95
Gluten free grazing plate £10.95
Mixed charcuterie grazing plate £11.95
Artisan cheese grazing plate £11.95
Artisan cheese & charcuterie grazing plate £13.95
A selection of artisan breads, sea salted butter or olive oil £1.95
Barley Sugar Kitchen is open Monday - Saturday between 10am & 3pm.
Tel: 01323 734442